Get Ready for a Game-Changing Streaming Experience with Crowd Control and Streamlabs Ultra
Working towards our mission of making Crowd Control available to as many creators as possible, we are thrilled to announce a partnership with the leading live streaming platform Streamlabs, which will bring the ultimate interactive gaming experience to Streamlabs' App Store and users worldwide. This partnership will offer Streamlabs Ultra members exclusive Crowd Control features and help us further understand the long-term impact Crowd Control has on creators' engagement and stream income.
But wait, what's Crowd Control?
I'm glad you asked! Crowd Control is a game-changing app for streamers that enables viewers to interact with the games being played on stream through Twitch Bits, Channel Points, Global Coins and now tips directly through StreamLabs (Ultra members only). This creates a revolutionary way to interact with your community and revisit your favorite games. For example, a viewer can spawn an Ender Dragon into a Minecraft server. We'll let you decide if that's fun or not. 😉
Crowd Control & Streamlabs Ultra Come Together
The Crowd Control Streamlabs app will be available in the Streamlabs App store this August.
As part of our partnership, we are offering Streamlabs Ultra members a highly-requested, exclusive Crowd Control feature: viewers can now tip during a Crowd Control session to activate Crowd Control Effects
As a special offer, Ultra members will also receive one month of free access to Crowd Control Pro, Crowd Control's subscription service that unlocks even more features to enhance the Crowd Control experience for both streamers and viewers alike. We are working with Streamlabs to bring more features to Ultra members in the future.
Learn more about Streamlabs Ultra, its benefits and tools here.
Subscribe to Streamlabs Ultra, here.
The Numbers Speak for Themselves
At Crowd Control, we are committed to providing the best possible tools for our streamers. To ensure we are on the right track, we partnered with Streamlabs to take a closer look at 1000 active Crowd Control streamers to understand the impact of Crowd Control on their streams. The results were astounding. Streams using Crowd Control saw a:
1.8x median increase in Twitch Bits
2x median increase in Twitch Subscriptions
2x median increase in peak concurrent viewership.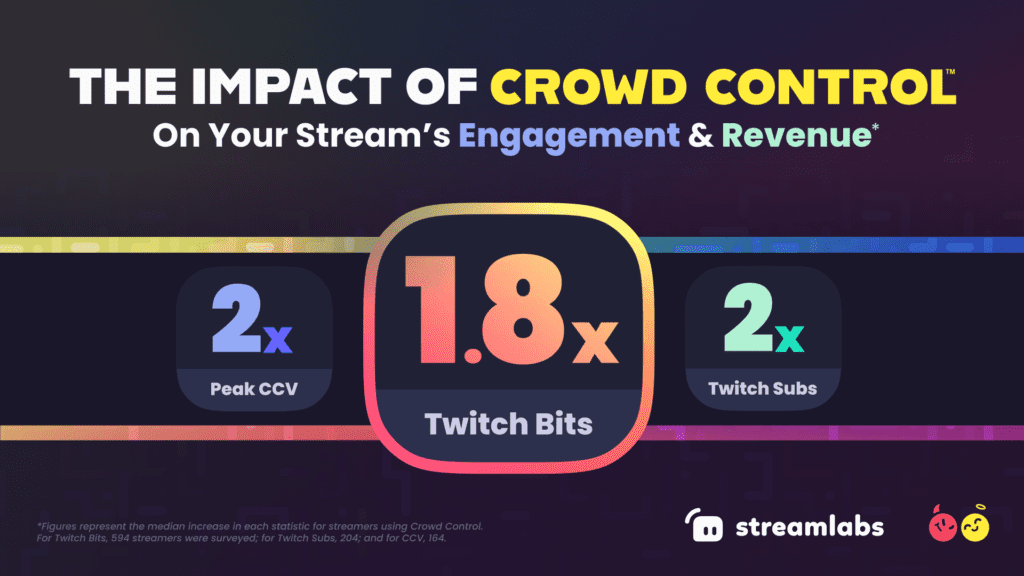 These impressive results are a testament to the effectiveness of Crowd Control and the level of engagement it brings to streamers and their communities.
We know that community engagement is critical for streamers, and we are dedicated to providing the best possible tools to create an unforgettable experience for their viewers. With this partnership with Streamlabs, the Crowd Control app will be available to even more streamers, and we are excited to see the new ways our users will incorporate Crowd Control into their streams.
Whether playing an exciting game like GTA V, completing challenging runs in Enter the Gungeon, or exploring the vast world of Skyrim, the possibilities are endless with Crowd Control, and we can't wait to see what the future holds.
Crowd Control is the app that lets your viewers interact with the games you play on stream. Crowd Control supports +100 games and has been installed by over 70,000 live creators.
Use Crowd Control on your next stream by visiting crowdcontrol.live
Follow Crowd Control on Twitter, TikTok, Instagram and Facebook
Have any questions, need help with Crowd Control or just want to hang? Join our Discord